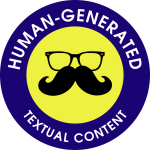 WHAT DO WE MEAN BY THIS?
---
We are committed to providing visitors to our website with high-quality, reliable, content.
By indicating that the written content on this website is "human-generated" we are letting you know that it was created, edited, and checked by real people, as opposed to being generated by artificial intelligence (AI) algorithms or automated processes. Although this is a tedious process on our part, it ensures that the content on our site has been created using our own extensive expertise in research, resulting in a more accurate user experience. In drawing attention to the human-generated nature of our content, we are emphasising the authenticity and credibility of our information.
Graphics we include, unless otherwise indicated, have been generated with artificial intelligence 'text to image' programmes
---